EVENTS
Coming in June to CAVU Cellars!
Artist Reception June 2, 5-9 PM
Display June 2-29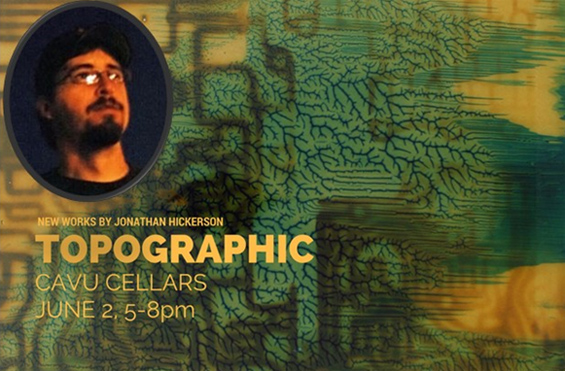 Jonathanís collection of sculpture, paintings, and drawings reveals a fresh take on 21st Century cartographic techniques and the relationship between humans and our environment. Jonathan was born in a small western town in Wyoming and grew up in an area that is commonly referred to as big sky country. His connection to the landscape and grand views are apparent in his artwork. His works contrast the dominant human constructs to their physical surroundings and the microcosms found within. Jonathan acquired a Bachelorís degree in Fine Art at the University of Wyoming and then honed his skills as a sculptor by working with world-renowned modern artists at the Walla Walla Foundry. He has recently refocused his artistic career on making his own work and has shown work in the local area as well as online. Jonathan currently lives in Walla Walla, Washington, where he continues to create artwork that he hopes will inspire appreciation and make people think about their everyday surroundings.

Salsa Night continues the 2nd Friday of every month
Visit our CAVU Cellars Facebook page for more information
Now Showing at CAVU Cellars!
Artists Joaquin Pillado, Enrique Murillo, and Nathan Dyer
May 6 - May 28, 2017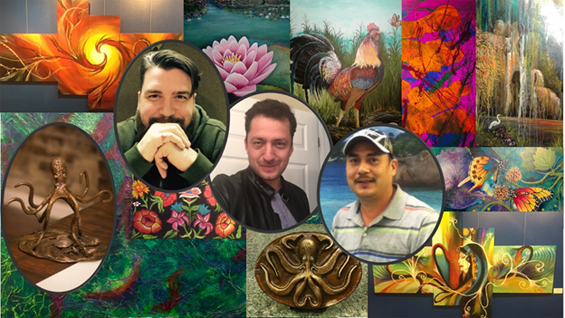 Artists Joaquin Pillado and Enrique Murillo are returning to CAVU Cellars Art Gallery for another of their very creative art shows. This time, they are being joined by Nathan Dyer.
Joaquin, born in Cocula Guerrero Mexico, is inspired by nature. He works with acrylics, pastels, and oils, painting on paper, canvas, and wood. He especially enjoys painting over gesso textures. Joaquin says that since he started painting, it has been an amazing journey full of colors, forms, textures, and imagination.
Enrique was born in Mexico City. His father, also an artist, encouraged him to pursue art. He began experimenting with black and white human anatomy drawings, and likes to play on the transitions of colors with both realistic and abstract interpretations. Through painting, he says, he can express visually the art that inspires him every day in life, projecting his style of modern, contemporary, and abstract painting.
Nathan was born in Yakima, Washington, and has been involved in art since he was a small child. He is a former commercial diver who fell in love with the many creatures of the ocean, a passion that is reflected in his art. He has been working for a local artist and master sculptor for the past 3 years. Nathan draws his inspiration from the world around him, blending the things he sees in his head with the reality he faces day-to-day to formulate his creations across several media. With a particular interest in the fantastical, his work covers the realms of both space and sea to create imagery that draws viewers in where they lose themselves in a beautiful mix of color and depth.
Event Space. Looking for a great venue for your next event? Check us out.