EVENTS
New Art Exhibit begins June 1st. Artists' opening reception June 3rd, 5 to 8 PM.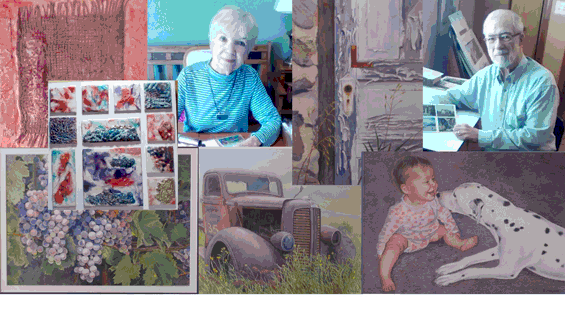 Joyce has been actively involved in various aspects of the arts for many years. She has appeared in numerous community theater productions in three states and has had a number of written articles published, and co-authored a book with her husband. With that venture finished, her time is once again actively devoted to pursuing the visual arts. Working first in watercolor, she then discovered the art of making her own paper and using it to make creative collage pieces. Soon she learned that by incorporating 'found' objects in her collage work, a whole new avenue of expression was open to her. Her latest creative endeavor has been to explore encaustic painting. It has quickly become her favorite art form. Her husband is convinced it's because of the 'power' she experiences while using the blow torch to melt and 'push around' the hot wax! She always has great fun searching for just the right object to incorporate into that waiting board of molten wax.

Specializing in watercolor realism and painting 'all things Walla Walla' is more than just a hobby for Randy--it's a lifestyle.

Randy's dad was a recognized watercolor artist in Canada, and passed on this gift to Randy. In his earliest days, he enjoyed sketching trips with his dad. When he graduated from the University of Manitoba, he felt a call to Christian ministry and so instead of Art College, he went to Fuller Seminary in Pasadena, CA. Then he gave 40 years of service with the Evangelical Covenant Church, still doing some art work, such as designing bulletins and creating art glass windows.

After marrying Joyce in 1981, he took a break from ministry and for six years, the two of them lived as freelance artists, doing shows, exhibiting in galleries, taking art trips to China and France, winning some significant awards, and actually surviving as artists!

Event Space. Looking for a great venue for your next event? Check us out.