Welcome
We are pleased to announce that our shopping cart is up and running. We have partnered with Vineyard 2 Door in order to provide a safe and secure shopping environment. All orders placed online come directly to Jim, Karen, and Joel at CAVU Cellars. You can go directly to the shopping cart here.
Events
NEW ART EXHIBIT COMING TO THE GALLERY AT CAVU CELLARS!!
We have opened our events space to local artists to hang their art and have art shows, a practice that has actually created a small but exciting art gallery. Each artist holds an opening reception where people can meet them, sip wine, and buy art—or simply enjoy the show. The events space is still available for other events.
We are very excited to have local water color artists Roy and Joyce Anderson hang from March 1 through April 20th, 2015. The exhibit includes 20 water color paintings which represent a water color diary of their favorite subjects. An opening reception will be held on Saturday, March 7, 2015 from 5 to 9 PM. Roy has invited musician friends to play during the reception with a wide selection of old and new.
Starting April 22nd and continuing through Spring Release Weekend, we will feature world-renown artist Pete Kephart, who is famous for his fire painting—indeed, he is the only one in the world who does what he does. A fire-painting demonstration is planned.
Following Pete, we will feature three local artists: Dan Dunn, Brandon Hallsted, and Jim Cotts. Their opening reception is May 8th, 5 to 9 PM. We will send more information on these talented people closer to their show.
We are posting pictures and more information on Facebook.
Roy and Joyce Anderson
<![if !vml]>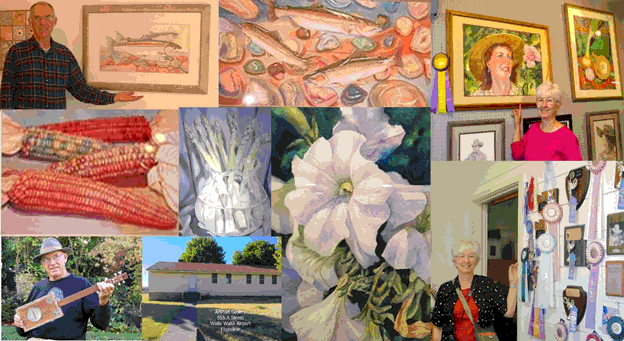 <![endif]>
Looking for a great space to hold an event: Our newly remodeled tasting room and event space are perfect for holiday parties, business meetings, wedding receptions, or other get- togethers. If you have a large group, we have additional space in the winery. Give Karen a call at 509-540-6351 or come out to see what we have to offer.