EVENTS
In the Art Gallery
Now Showing at CAVU Cellars!
Dianna Woolley explores encaustic abstracts
Display July 7-29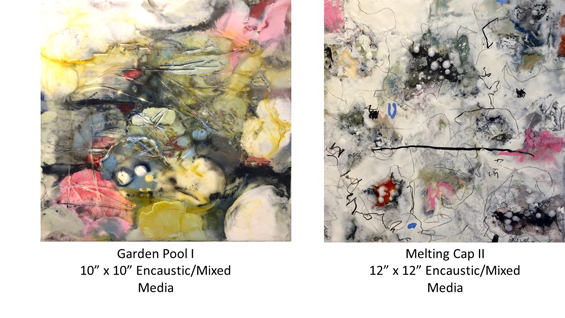 We at CAVU Cellars are delighted to have local artist Dianna Woolley show in our art gallery during the month of July.
Diana left New York City and corporate business life in 2000 and moved to Walla Walla, a move that enabled her to concentrate on a renewed arts education that has been accompanied by a vigorous art studio output.
Educated primarily in oil painting, Dianna's discovery in 2011 of molten beeswax, resin and other mixed media seemed a direct calling for her. Now working primarily with that medium, she has produced seven solo exhibitions and been juried into many national exhibits.
Dianna's mission as an artist, beyond the thrill of creating art pieces, is to engage with others who also create as well as those who do not yet create, have always wanted to create, or claim that they haven't a creative bone in their bodies. Her connections through art with clients, future clients, or "just looking" clients are important steps in recognition of humanity's vulnerability, curiosity, and complexity. Whether one "likes, or relates to, or just can't stand" a piece of work enables connection.
Now Showing at CAVU Cellars!
Craig Meldahl and Ryan Gary
Opening Reception Friday, August 4th, 5-8 PM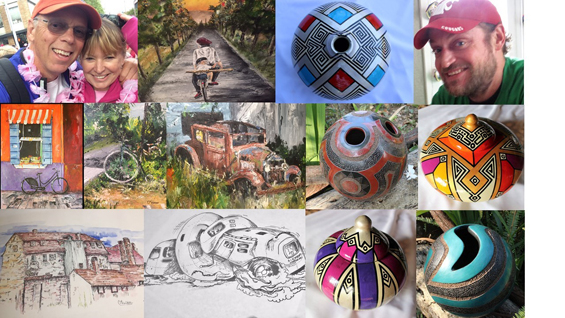 Artists Craig Meldahl and Ryan Gary are new to CAVU Cellars Art Gallery and we are delighted to have them.

A 40-year teacher/artist, Craig Meldahl, along with his wife Char, relocated to Walla Walla from La Conner, Washington. His works reflect his years as an art teacher and world traveler. He works with a wide variety of materials including but not limited to oil paint and acrylics as well as pen, ink and watercolor. Many of his works can be seen at his website: www.craigmeldahl.com

Ryan Gary, a native of Walla Walla, was enchanted by clay as a little boy and has enjoyed following that passion to present day. The pieces shown at CAVU Cellars are a glimpse at the past ten years following his ceramic passion, which landed him in San Juan De Oriente, Nicaragua. He has lived, learned, and grown all along the way. The idea for his pieces is the ability to imagine and transform the world around you into whatever you wish. He is looking forward to the next ten years of imagination and creation. Check out Ryan's work: www.etsy.com/shop/ignition310

Event Space. Looking for a great venue for your next event? Check us out.