EVENTS
Coming Soon to CAVU Cellars!
"Celebrating Connections"
Art Show featuring Margaret Walters
with Kate Collie, Beverly Nash, Augusta Sparks Farnum, and Susan How
Opening Reception: Friday, March 3, 2017, 5 PM to 7 PM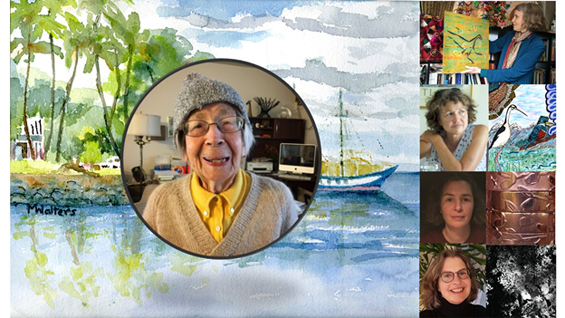 We at CAVU Cellars are honored to have Margaret Walters display her art in our gallery. Margaret, who was born June 12, 1923 has led an amazing life. She says that life is a journey and her 93 years have taken her many places, and in all directions. Everywhere she has gone, she has tried to relate to each new experience by painting what she has seen. The last 10 years have brought Margaret the new experience and new challenges of living in a retirement home here in Walla Walla. She recognized the strong connections between things and people in this small community, and has been actively enjoying those connections as well as making new ones. With this opportunity to show some of her paintings from the past forty-plus years, Margaret thought it appropriate to call her show "Connections."
Margaret has forged close connections with many artists, and she has asked Kate Collie , Bev Nash, Augusta Sparks Farnum, and Susan How to be part of her show. Kate is Margaret's niece, and has been a professional artist since 1974. Bev moved to Walla Walla in 2012 and met Margaret through Pop-Up and ArtWalla's ArtSquared. In February, 2016, she became Margaret's main caregiver. Margaret asked Augusta to show her copper napkin rings because her Napkin Ring Project is all about connections. Susan, an ecologist and photographer, met Margaret when they participated in a Crow's Shadow Print Monothon where artists come together to create prints that are then sold to benefit Crow's Shadow Institute of the Arts.
Dan Dunn Memorial and
ArtWalla Benefit Art Show
This is a reminder that we have approximately 20 of Dan Dunn's paintings left here at CAVU Cellars. Many of Dan's paintings were sold or gifted prior to and following his death May 13, 2016, so this may be the last opportunity for you to own a painting by one of the most cherished artists of Walla Walla. Proceeds from sales will be donated to ArtWalla. CAVU Cellars is open from 11:00 to 5:00 daily.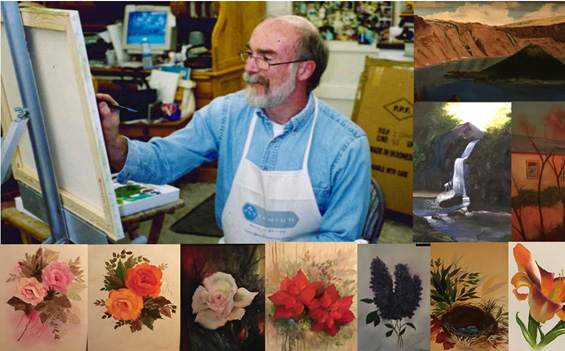 Event Space. Looking for a great venue for your next event? Check us out.