Special Notice
We will be open effective Saturday, May 30th
11 to 5 Daily
We will be operating under Phase 2 rules, which requires social distancing and masks.
We have plenty of space to handle multiple groups so an appointment is not required.
Our tasting room will operate with the six feet social distance rule, so we have prepared tables in our Art Gallery and large Event Room for seating. We have two tables for seating in the tasting room and an additional 3 tables in our art gallery. We also have additional seating in the rear event room and tables and chairs outside on the front and rear patios.
Per the governor's recent directive, all people must wear masks when not tasting wine.
The CAVU Art Gallery is open
CAVU Cellars Welcomes Participating Artists
for Art Walla's Annual Fundraiser
Due to Covid restrictions, the fundraiser will be held online in a virtual auction, but 82 artists will each be displaying one of their original artworks in the CAVU Cellars Art Gallery. This is a great opportunity to see and purchase the many types of artwork our local artists have to offer.
This artwork will be on display and for sale at CAVU Cellars through the month of October.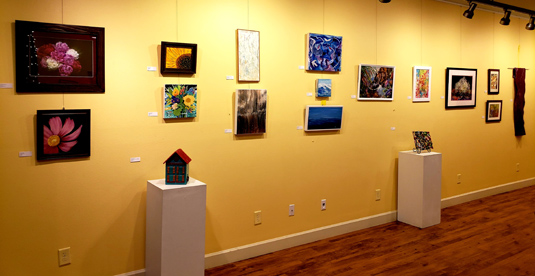 OTHER EVENTS
None Scheduled
First Friday Salsa Night
Salsa Night is Cancelled Until Further Notice
Event Space. Looking for a great venue for your next event? Check us out.